At iMarketing, we believe in the empowerment of our youth. We are passionate about helping young people to develop their skills and gain relevant work experience. That is why we are heavily involved by giving our youth access to work experience through our internship programme. Meet the new additions to our team who have successfully worked their way through the ranks 🙂
Yulani Fourie
Currently a final year student at the Namibia University of Science and Technology (NUST), working towards completing her degree in Bachelor of Marketing. Yulani joined the iMarketing team in July and has enjoyed every moment since. "Every day at iMarketing has been a valuable learning experience and I am excited for what lies ahead."
Yulani started out as an intern marketing consultant but has since been promoted to junior marketing consultant. Her responsibilities include managing clients' social media accounts, planning and writing content for posts, drawing up internet marketing reports, and anything and everything marketing related.
She describes herself as witty, diligent, and an enthusiastic coffee-lover.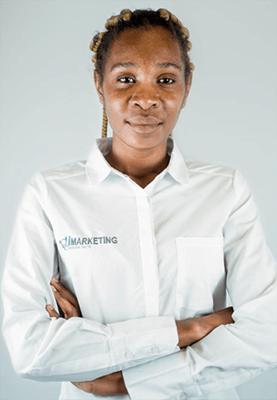 Ester Angula
Ester is a final year student in Bachelor of Informatics at NUST and has been with us since early July. "It's a good working environment as everyone here gets along really well."
Ester joined the team as an intern in web development. She is now a junior web developer and her responsibilities include website design and development. She finds the artistic aspects of web design pleasing. It brings out her creative side because she has to visualize how the website will look before she starts with the creation process.
Something that people won't know about her, is that she tried modelling for two years. She is also learning how to play the piano in her spare time.